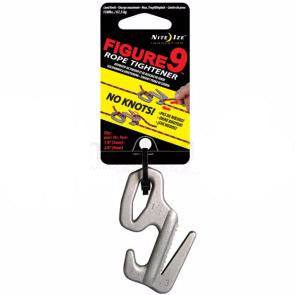 If you've ever had problems with losing tension in your rope while tying a knot, or wasted time untying a difficult knot, here's your hassle-free solution. Nite Ize Figure 9 Rope Tightener tightens, tensions, and secures ropes without knots.

The Nite Ize Figure 9 makes tightening any line a stress-free task. From tying awkward objects to the back of a truck or vehicle to organizing tools or items in the garage, this handy tool secures large loads quickly and keeps tension where you need it. Loop your rope through its strategically designed prongs, pull it tight, and it stays that way.

A smart alternative to complicated cam tensioning devices and bungee cords, our Figure 9 also controls the release of high tension, avoiding sudden and dangerous unloading.

Warning: Not for use where disengagement could result in bodily injury or property damage. Not for climbing. Manufacturer is not responsible for loss, injury, or damage due to improper use of product. Inspect product and rope prior to use. DO NOT EXCEED stated load limit (67.5kg) of product or rope, whichever is less. Manufacturer makes no guarantees concerning line, rope or cord not contained in this packaging. Avoid sharp edges, hot or abrasive surfaces, and shifting loads.
Two attachment methods for ultimate versatility
Loop System
Fixed End System
Laser engraved instructions ensure ease in operation
Use with your own rope or purchase a combination set that comes with rope
Lightweight, strong aluminum construction
Specs:
Small Size: