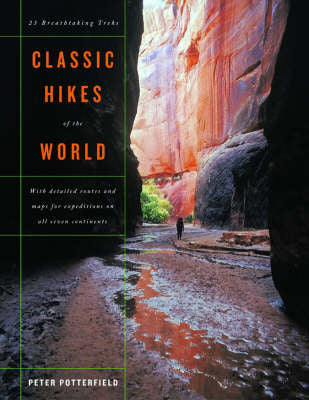 -16%
"
This book will help you realize your dreams of hiking among the world's highest peaks and most scenic canyons, discovering wilderness far from the clamor of civilization, encountering rare birds and animals, glorying in sunsets over glacier-clad ranges, and feeling the joy and achievement of hiking some of the world's most spectacular trails.

Peter Potterfield has selected the great hikes of the world from personal experience, having hiked and photographed hundreds of trails to arrive at this selection. The adventures described range from weekend overnights to four-day hut trips to epic journeys that take a few weeks out and back. None requires technical mountaineering skill. Features include details on trail conditions, levels of difficulty, best seasons, approach strategies, hazards, and maps. Hikes include: John Muir Trail, California; Wonder Lake to McGonagall Pass, Alaska; Tour de la Vanoise, French Alps; Kungsleden, Swedish Lapland; K2 Base Camp; Grand Canyon rim to rim; Mount Kilimanjaro; Cerro Fitz Roy, Argentina; and Shackleton's Crossing, South Georgia. 115 photographs
Book Features:
| | |
| --- | --- |
| Full Name | Classic Hikes of the World 23 Breathtaking Treks |
| Author | Peter Potterfield |
| Language | English |
| Main Topic(s) | Travel Guide on Backpacking or hiking destinations |
| Book Size | Large |
| Pages | 224 |
| Cover | Hard Cover |
| Who Should Read This | Anyone interested in backpacking |
| 13 Number ISBN | 9780393057966 |
Nalno.com Quick Review: This fully illustrated book has maps, pictures, route information and logistics and much more to help you plan for your next breathtaking backpacking trip. There is an obvious focus on North America, but it also includes hikes in the rest of the world. Even if you never execute any of the hikes, you would love the pictures.
"